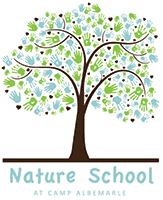 Nature School at Camp Albemarle is a faith based program with the goal of teaching children about God through the wonder of his creation, establishing a connection to nature and getting children active outdoors.
Announcements
Registration is now open for the 2022-2023 school year!
The lottery has passed and registration is now on a first come first serve basis. Registration forms and fees must be turned in to secure a spot in our program.
All classes are full except for 3rd grade, Sprouts, and Eco-Explorers 7/8.
Make sure to review the detailed registration information and lottery process here.
Click here for the registration form and click here for the session offerings form.
Waitlist Request
Click the icon below to be added to the 2022-2023 school year waitlist.
Schedule a Tour to See Our School
Follow Us on Social Media
Family Nature Nights
No classes scheduled for Fall 2021
Spring Family Festival
March 26, 2022 | 10am to 2pm
Click here to become a sponsor.
More information coming soon.
Little Explorers
A caregiver and child class for ages 18 months to 3 years