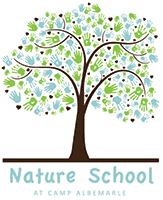 Nature School at Camp Albemarle is a faith based program with the goal of teaching children about God through the wonder of his creation, establishing a connection to nature and getting children active outdoors.
Announcements
Check our website in January for the 2023-2024 registration information.
All 2022-2023 classes are full except for Sprouts.
Make sure to review the detailed registration information and lottery process here.
Click here for the 2022-2023 registration form and click here for the session offerings form.
Waitlist Request
Click the icon below to be added to the 2022-2023 school year waitlist.
Schedule a Tour to See Our School
Follow Us on Social Media
Family Nature Nights
None scheduled for Fall 2022
Little Explorers
No classes scheduled for Fall 2022.