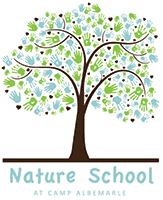 Nature School at Camp Albemarle is a faith based program with the goal of teaching children about God through the wonder of his creation, establishing a connection to nature and getting children active outdoors.
Half-day morning preschool classes, half-day afternoon homeschool classes, and full-day K-4th grade classes are offered.
Visit the Session Offerings tab to view the classes for the 2021-2022 school year and the Enrollment tab for registration information.
All preschool classes, Kindergarten, 1st grade, 3rd/4th grade, Sprouts and Eco-Explorers 9/10/11 year old classes are full for the 2021-2022 school year.
Click the button below to add your child to the 2021-2022 school year waitlist. We do not keep waitlists for upcoming school years.
Family Nature Nights
No classes scheduled for Fall 2021
Full Moon Paddle Trips
Dates TBD
Little Explorers
A caregiver and child class for 18 months to 3 year olds