Nature School – Lower School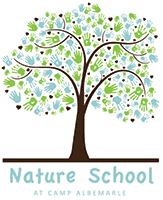 K-4th Grade
Monday - Friday | 8:30am to 2:30pm
$600 per month
Important Information
Students must be 5 on or before August 31, 2021 to enroll in the Kindergarten class.
Class starts on August 23, 2021 and ends on May 27, 2022.
There are 12 students per class. Kindergarten has a supporting teacher at all times and 1st-4th grades have supporting teachers that assist with the class at various times of the day.
Classes are held outside in all weather elements. Students must dress appropriately for the weather.
About Our Lower School Program 
Lower School is Nature School's private elementary school, offering grades K-4th for the 2021-2022 school year. NC state standards are met through a progressive, integrated and experiential curriculum that covers all academic subjects while nurturing the unique skills and abilities of each student and providing time for them to learn at their own pace. Our approach is rooted in daily nature immersion, capturing students' inborn curiosity about the natural world to foster deep connections to God, nature and each other. Lower School will have access to an indoor space but class will take place predominantly outside. Click on the icons below to access more information on Lower School.
Enrollment Information 
More information coming soon.