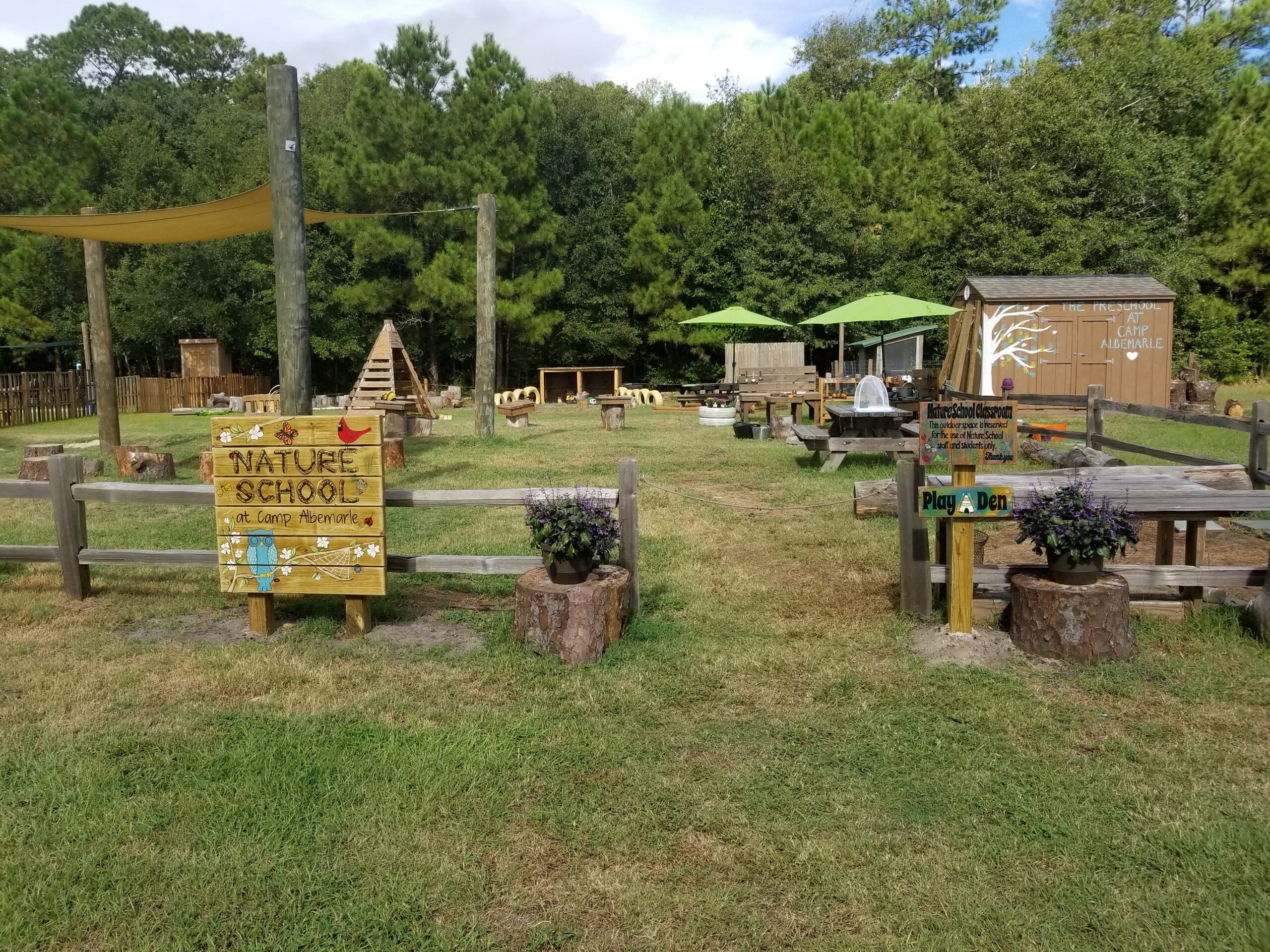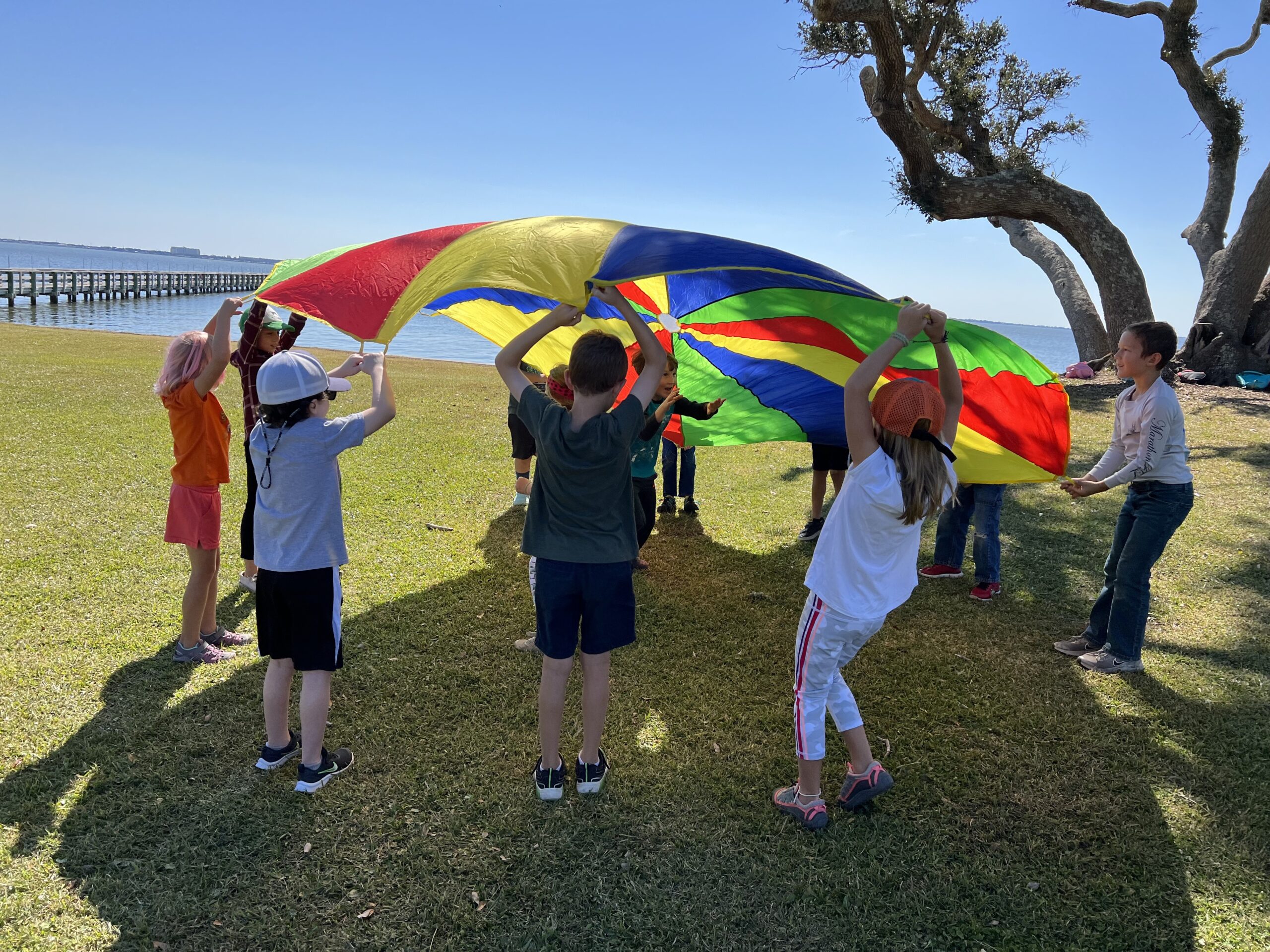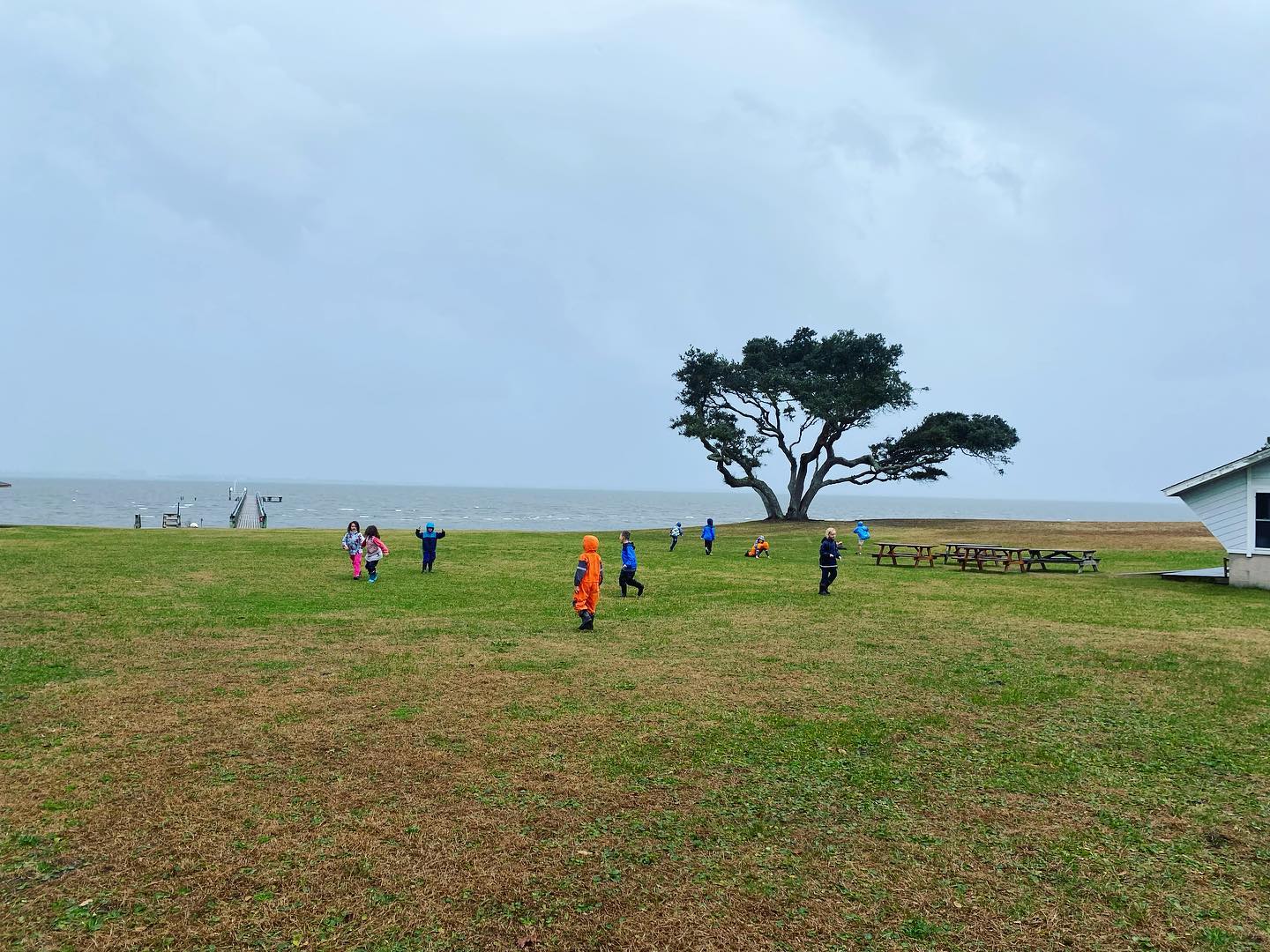 20180910_102053
Each Class has a base camp to start and end their day but learning, play and exploration happens in all areas of camp property.
Each class has a base camp to start and end their day but learning, play and exploration happens in all areas of camp property.
IMG_8586
Camp Albemarle is located on 29 acres of open grass and wooded areas, and is bordered by Bogue Sound.
ns_slider
Our students learn and play outdoors in all seasons, and in rain and shine.
September 2016
Our outdoor school launched, born from a dream & a prayer. The school started as The Preschool at Camp Albemarle, offering 2 day & 3 day preschool classes, and an afternoon class for homeschool students.
April 2018
Homeschool classes for older students were added. Our name changed to Nature School at Camp Albemarle to better reflect program offerings.
September 2021
Nature School expanded to offer full day private school classes for grades K-5th.
Sharing God's love through His creation.
Connecting students to nature to inspire appreciation for the natural world.
Providing a safe environment to encourage exploration and learning.
Promoting wellness through active play.
Assisting students in their interactions with each other to promote cooperative learning and encourage problem-solving.
Developing activities that are focused on the individuality, abilities, and interests of each student.

Katie moved from NY six years ago after many summers spent visiting her grandparents in New Bern and is happy to call Eastern NC home. She graduated from The State University of NY at Albany with a BA in English and is a certified nature-based teacher through The Eastern Region Association of Forest and Nature Schools. Katie has completed professional development through Mindstretchers Academy, Project Learning Tree, and Antioch University. She has over a decade's worth of experience working with children of all ages and developmental abilities in diverse settings. Additionally, Katie is trained in Conscious Discipline and Responsive Classroom. She is halfway through her Master's degree in Curriculum and Instruction. Katie is passionate about expanding nature-based educational opportunities beyond the preschool years. In her free time, she enjoys exploring the outdoors and camping with her family, reading, good coffee and baking bread.
Elizabeth moved to Carteret County in 2017 when she and her husband decided to make their dream of living at the Crystal Coast a reality. Tibby grew up in Charlotte and spent 15 ears of her life in Raleigh after attending NC State University where she earned her Bachelor's degree in Zoology and Biology. She also has a BS in Nursing. Tibby has worked as an RN in labor & delivery and post-partum, allergy and asthma, and pediatrics. In her free time, she loves spending time outdoors with her husband and two kids, running, baking and watching her husband and son fish. Tibby fell in love with Nature School after seeing her son thrive in their preschool program. She's excited to be a part of kids growing and learning in an environment that allows them to be creative and to see God's creation firsthand.
Jenn was born in Florida but has spent most of her life in Eastern NC. Her true calling is working with children and she has volunteered and trained with various faith-based organizations as well as with the Boy Scouts of America. Jenn is a certified nature-based teacher through ERAFANS and has completed professional development through Project Learning Tree and Mindstretchers Academy and is certified in Conscious Discipline. Jenn is most passionate about facilitating wonder-based play and making enduring connections with children, inspiring them to shine. She is deepening her understanding of the benefits of outdoor learning and is particularly interested in the connection between time spent outdoors and improved mental health. Outside of work, Jenn enjoys spending time with her family - her husband is a certified EMT, she has two sons, and she homeschools her youngest. As a family, they enjoy exploring, scouting, camping and volunteering in the community.
Megan Dettle
2 & 3 Day Preschool Lead Teacher 
Megan grew up in Indiana and attended Bellarmine University in Louisville, Kentucky.  She received a Bachelor's degree with a double major in Sociology and Theology. The Marine Corps brought her family here 12 years ago and now that her husband has retired, her family has made Cape Carteret their home.  Megan has worked in youth ministry, traditional schools, and the Armed Services YMCA.  Most recently, she has been a stay-at-home mom to three daughters and a Girl Scout Leader.  She has felt God's call to return to teaching young children. Megan is excited to join the Nature School staff and combine her love of God, nature, and children in one amazing place.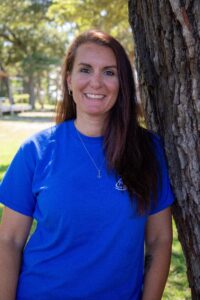 Jenn Smith
2 & 3 Day Preschool Supporting Teacher 
Sarah
 

attended Appalachian State University earning a degree in dietetics. She joined the Army and attended Baylor University for a Master's in Nutrition. As a dietitian,

 
Sarah 
counseled everyone from children to the elderly. After serving 6 years in the military, she wanted to focus on her two kids. She attends the Unitarian Coastal Fellowship and leads a Cub Scout Den for Pack 446.

 
Sarah
 

is also a local artist.
Brittney Kresse
2 & 3 Day Preschool Lead Teacher 
Brittney Kresse has a strong background in education, community resilience, and nature-based learning. She holds a BA in English from East Carolina University, and has earned multiple certificates from the Forest School Institute, including Forest School Teacher and Forest School Director. Additionally, Brittney is a Qualified Mental Health Professional, equipped with valuable insights into the emotional well-being of children and their families. She has completed extensive community resilience training and clinical first responder training, making her adept at handling challenging situations with compassion and understanding. Beyond her role as an educator, Brittney is passionate about community building. She believes that fostering strong connections between students, parents, and the wider community creates a supportive environment for every child to flourish. Brittney's philosophy revolves around the idea that every child can achieve inner peace through a sense of safety, love, and a connection to nature.
Jamie grew up in Emerald Isle and has spent most of her life on the beach. After graduating from Swansboro High School, she attended Coastal Carolina Community College, getting her Associate's degree in Early Childhood Education. She has worked in various preschool settings including Excel Learning Center. Jamie currently lives in Hubert with her family, her fiancé and 11 year old son and two fur babies Meadow and Tater. In her free time, she enjoys spending time with her family and friends and anything involving water. One of Jamie's favorite things are dragonflies
Ann-Marie was born and raised in Carteret County. After graduating from West Carteret, she attended NC State earning a degree in Psychology while obtaining her Elementary Education Certification from Meredith College. After returning to Carteret County, she married her high school sweetheart and began her teaching career at Morehead Middle School teaching math. After her oldest daughter was born and Bogue Sound Elementary opened, she transferred to teach first grade and later kindergarten. Three years later, her youngest daughter was born. She is retiring after 20 years from Carteret County Schools to follow God's direction to teach in a Christian-based setting. She is active in children's ministry at her church and has taken children's ministry classes through Campbell University, as well as completed nature-based professional development through ERAFANS. Ann-Marie is also certified in Conscious Discipline. Outside of work and ministry, she loves boating and kayaking here at home and camping in the mountains. She is excited to see where God is leading her in this new chapter of her life.
Jacqueline was born and raised in Carteret County. She graduated from West Carteret High School then attended UNC Pembroke and East Carolina University studying art and elementary education with an emphasis in reading. Being an artist, Jacqueline loves sharing her passion of art with students. She spent many of her teenage and college age years babysitting, nannying, and working in the nursery at church before beginning her career in education. Watching her mother as a teacher, she knew she wanted to follow in her footsteps but not in a traditional classroom, so she's excited for this next step in her career in a place she feels she fits in best. Outside of work, she loves animals (horses and dogs specifically) and spending time outdoors with them. Jacqueline is trained in Conscious Discipline.
Sharon has lived in NC all her life feeling the pull of the ocean like a great orbiting moon. The beach is home, the sea spray her oxygen. She graduated from East Carolina University with a Bachelor of Science degree in Child Development and Family Relations and went on to receive a Master's degree in Special Education and a Master's degree in Counseling Education. Her greatest pleasure has come from teaching children. Throughout her college years and beyond she was a camp counselor and assistant director at Camp Don Lee in Arapahoe. Those experiences as a student of nature and then a counselor helped her share a love of the outdoors and all its wonders.  Sharon retired once after 4 years teaching special education and then 28 years as an elementary school counselor and found it was not something she was particularly pleased with. The ocean's waves have thrown her back on shore to return to what she loves – children laughing and learning. Outside of work, Sharon cherishes her time with her husband and grown daughter, traveling, camping and living in this little heaven on earth we call the Crystal Coast.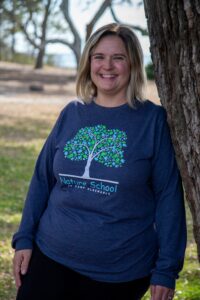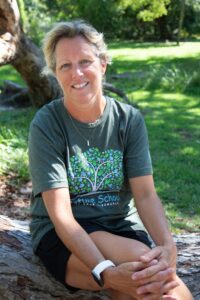 Susanne Martin
1st Grade Lead Teacher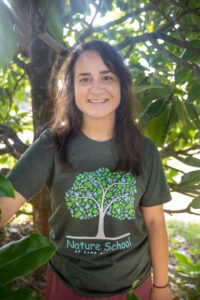 Anna Harris
2nd Grade Supporting Teacher 
Anna
 

graduated from East Carolina University with a bachelor's degree in Psychology. After graduation,

 
Anna
 spent three years as

 a behavior technician for children with autism. While working on her Master of Education in School Counseling degree,

 
Anna
 

is familiar with Nature School and excited to be a part of the Nature School family. She looks forward to seeing students share God's love through his creation and learn within their natural environment. Outside of work,

 
Anna
 

enjoys spending time with family, friends and her fur babies.
Sarah McMorrow
2nd Grade Lead Teacher 
Sarah
 

and her husband Sean moved to Eastern North Carolina in the winter of 2021. They both have a love of the ocean and the outdoors.

 
Sarah
 

was born and raised in West Virginia. She has also lived in Ohio, Illinois, and Indiana.

 
Sarah
 

received a Regents Bachelor of Arts degree from Marshall University in 2007. She completed a graduate level Transition to Teaching program at Calumet College of Saint Joseph and received her Elementary Education teaching license in Indiana and most recently North Carolina. 

 
Sarah
 

has worked with children of different ages and developmental abilities in a variety of educational and childcare settings for the past 18 years.  She is very excited to continue her career path at Nature School. In her free time, she enjoys spending time with her family, friends, and her 2 dogs. She loves hiking, photography, and traveling.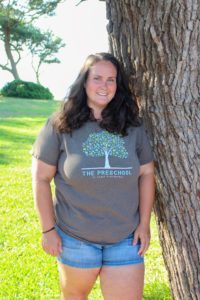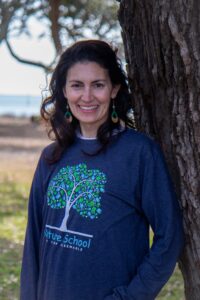 Suellen Leonard
6th Grade Science and Math Teacher
Suellen was raised on a farm in Oak City,  North Carolina. Pursuing a degree in science education,  she attended NCSU, where she met her handsome husband,  Nate. Suellen taught four years as a high school biology and earth science teacher before becoming a mom. Being a mom to Pierce, Creed, and Selwyn has been an awesome and transformative journey for her.  She also enjoys serving at her church in many roles,  where her husband is senior pastor.  Few things bring her as much joy as working with young people. Suellen has a passion for foster/adoptive families and helps to lead the Family Matters support community.  She has held a variety of teaching positions but most recently has taught sewing and calligraphy at the community college and in the community. She loves how these hobbies help her share her love for God with others. In her spare time,  she loves to hike, throw a cast net, sew up some new clothes, brew another pot of coffee, try a new craft, listen to a Tim Keller podcast, or watch some HGTV.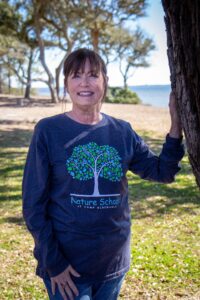 Faith Seigle
6th Grade Language Arts and Social Studies Teacher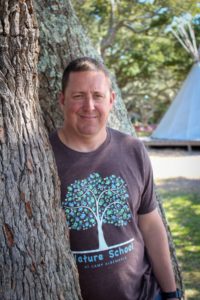 Michael has lived in Eastern NC his whole life. He graduated from East Carolina University with a BS in Business Management and he is currently serving in the NC Army National Guard. He has worked in the private and public sectors of education for over 7 years and has also been teaching for over 20 years through the Boy Scouts and swimming lessons. Michael is proudly an Eagle Scout. Michael has his initial teaching certification through the Association of Christian Schools International and is certified in Conscious Discipline. In his free time he enjoys spending time with his family, cooking, offshore fishing and bowling. He loves teaching outside where students' attention spans are increased and more learning can happen than by being in a classroom all day.
Cheyenne was born in the small town of Thomaston, Georgia but she grew up here on the Crystal Coast and considers both places home. She graduated from UNCW with her bachelor's degree in Spanish. She enjoys learning new languages and is fluent in both Spanish and English. Cheyenne was a homeschool student for most of grade school and because of this, she had the opportunity to work with children in a teaching role from a young age. She has a deep love and appreciation for nature, God and teaching. She is so grateful to be able to work in an environment that encourages growth in all three. Cheyenne has completed professional development through ERAFANS and is certified in Conscious Discipline. In her free time, Cheyenne enjoys hiking and going on adventures with her family, reading, photography, learning the violin and volunteering in her church's children's ministry.
Bethany was born and raised in Forsyth County but spent her vacations in Emerald Isle and dreamed of calling the beach home. In 2013 this dream became a reality as she and her husband moved to Carteret County to start a family. Bethany has her Bachelor's degree in Business Marketing with a minor in Psychology and a teaching certification in Elementary Education from UNCW. After spending a few years in the business world, Bethany followed God's leading to make a switch to teaching and has taught 1st, 2nd, and 5th grades as well as been an academic interventionist, until her children were born. Bethany feels blessed to be able to send her boys to a faith-based and nature-centered school and is excited to join the staff after years as a Nature School parent. Outside of work, Bethany and her family are very involved in their church, and they love spending time together as a family. In her free time, she enjoys traveling, boating, paddleboarding, reading, biking and family game nights.
Kaliegh Blevins
4th-6th Grade Supporting Teacher
Kaliegh arrived to NC in 2020 by way of Kodiak, AK, joining the Nature School team soon after her move as a preschool and Sprouts supporting teacher. Before her move she spent several years teaching special education in Alaska and is an avid lover of the outdoors. Kaliegh loves that nature school is not like a typical classroom and was drawn to this mode of education because of how being outside in nature inspires her teaching and promotes feelings of wellness. Her goal is to learn more teaching strategies that will have her students hooked and wanting to learn more. Outside of work, she loves coffee, hiking, fishing and foraging with her family, as well as cooking and baking for family and friends.
Homeschool Program Teachers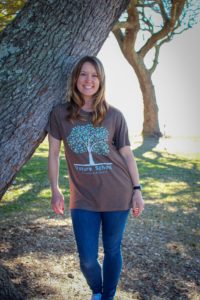 Kelly grew up in Wilson, NC and spent her weekends and summers here on the coast. She graduated from East Carolina University with a B.S. in Finance and worked in accounting and finance until she and her husband were blessed with their two amazing girls. They moved to Carteret County for the small-town life and she became a stay-at-home mom and then a homeschool mom. Kelly spends her days with her girls learning, playing with their Boxer puppy, hiking nature trails, gardening, cooking and baking, doing arts and crafts, singing and playing music and enjoying each other's company.  Kelly is also a Girl Scout Troop leader of 19 precious girls and is passionate about teaching them important life skills, how to enjoy and care for nature, to be good citizens and to be courageous and strong. She has a lifelong passion for learning and is currently improving her Spanish, guitar playing and growing her green thumb.
Laurie Power
Eco Explorers Lead Teacher
Rachel graduated from the University of NC at Charlotte with a major in English and a minor in linguistics. She has previously worked with children on the autism spectrum for over three years, however after having her own child she decided a change of pace was needed and found Nature School. Rachel is eager to dive into the nature school way, combining her passion for the outdoors and working with children. In her free time, she enjoys biking, kayaking, and camping with her husband and son.
Elijah was born and raised in Eastern North Carolina. He loves teaching and has spent years helping children learn and be more excited about learning. Elijah comes from a church background, where he has helped teach Sunday school, as well as Vacation Bible School classes. One of the things that he is most excited for is being able to help children experience wonder and be excited about nature and learning. When Elijah isn't at work, he loves quality time with friends, road trips, sightseeing, and is passionate about cooking.