** Due to covid restrictions and the increase in our outdoor school programs we have limited availability to serve outside groups at this time**
Camp Albemarle Challenge Program strives to foster a deeper connection with God, with others and with the world. Our challenge programs utilize experiential education to help participants function more successfully within a team, practice effective leadership and communication skills and simply learn a little more about themselves and those within their group.
Our Challenge by Choice program encourages participants to challenge themselves, but recognizes this may look different for each person and is perfect for corporate groups, youth groups, school organizations, and leadership retreats.
Pricing
Prices start at $10 per person plus $25 per hour per facilitator. Contact us for specific cost information.
Challenge/Adventure Activities
If you are looking for a great way to challenge your group and help them learn to work together check out what we have to offer below!
Our low course challenges participants through games and activities that encourage teamwork and creative problem-solving. Throughout the experience, our trained facilitators will encourage teamwork and communication and lead the Camp Albemarle Challenge Program group through discussions and reflections to make the most of their experiences.
Group experiences are tailored to meet the needs of the group and depend on the size, make-up, and desired goals of the group. Groups of all sizes and ages can be accommodated – contact Camp Albemarle for more information!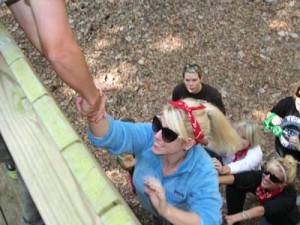 Utilizing ropes, harnesses, and helmets, technical tree climbing allows climbers safe access to the treetops! Fun for all ages and abilities, tree climbing is an individual challenge in which climbers choose how high they would like to climb and experience nature in a whole new way.
Camp Albemarle Challenge ProgramTree climbing may be combined with low challenge elements to create a program or can stand alone as a fun outing for a youth group, family weekend, or even a birthday party!
Contact Camp Albemarle for more information or to book your group!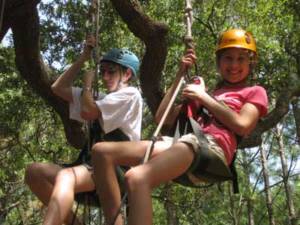 Alpine Tower and Giant Swing
New to Camp Albemarle in May of 2012, our 50' high Alpine Tower provides high challenges and fun adventures! Participants will learn climbing and belaying skills, and, under careful supervision by Camp Albemarle facilitators, will be responsible for keeping one another safe. Climbers may take on personal challenges or work together with other climbers to climb to personally set goals.
Camp Albemarle Challenge ProgramThe Alpine Tower also has a Giant Swing – harnessed participants are hoisted by their team members up to 30' in the air before being released to swing in pendulum fashion through the air.
With the exception of the Giant Swing, participants must be in the 6th grade to climb the Alpine Tower. To use the Giant Swing, participants must be in 1st grade or beyond.!
Contact Camp Albemarle for more information or to book your group!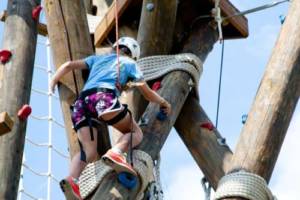 Is it safe?
Yes, absolutely! All of our challenge equipment is regularly inspected. The trees used for climbing and the Alpine Tower, along with all of our fixed low elements, are inspected by facilitators prior to each use.
Our climbing trees are inspected biannually by an arborist and the Alpine Tower is inspected annually by inspectors with certification through the Association for Challenge Course Technology (ACCT) All climbing equipment including ropes, harnesses and helmets is individually inspected prior to each use.
All of our facilitators are highly trained to conduct fun, safe experiences for the participants and participants are educated about the safety considerations of each event before beginning. Though all precautions are made to prevent such an event, should an emergency situation arise, all facilitators are also trained to safely and appropriately handle any necessary rescues.
What do I need to bring?
Most challenge experiences will occur outside, so be prepared for the weather – you may dress in layers in cooler months, bring a rain jacket if the forecast looks like rain, or bring sunscreen. Water will be provided, but you may wish to bring your own water bottle.
All participants are required to wear closed-toe shoes and have a release form signed to participate, those under 18 will need a parent's signature.
How old do you have to be?
Our challenge activities can be tailored to meet the needs of a diverse number of groups, no matter how young or old. However, our climbing events require harnesses and helmets to fit properly and therefore require participants to be large enough to comfortably wear a harness; generally this is elementary school aged for tree climbing and the Giant Swing.
Because of the safety considerations of learning to climb and belay, as well as to ensure that participants fully benefit from the experience, you must be in at least 6th grade to use the Alpine Tower.
Is my group too small/too big?
No group is too small or big, but activities may be tailored or limited by group size. Generally, a minimum of 6 participants are needed for the challenge program. A maximum of 36 participants can use the Alpine Tower.
The maximum ratio of facilitators to participants will be 1 to 12, so large groups may be divided for some activities.
How long does it take?
Programs can take anywhere from an hour to several days! As a minimum, expect to schedule an hour for every 14 tree climbers, 4 hours if you would like to use the Alpine Tower and at least 2 – 3 hours for an effective team building session.